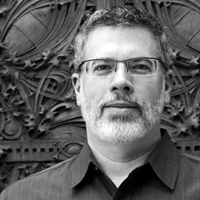 With over twenty years of product design and development experience, Warren Ginn, FIDSA is Principal of GinnDesign, LLC. Since graduating from school, he has been passionate about product design, materials and manufacturing. He has a particular expertise in and affection for product design for medium and low-volume production that mix materials and processes to create innovative solutions.
Before starting GinnDesign, Warren was Senior Research Industrial Designer at the Renaissance Computing Institute (Renci) in Chapel Hill, NC and before that, Director of Product Development for Elumens Corporation in Durham, NC.
Prior to moving back to North Carolina, he worked for 7 years as an industrial designer for Integrated Design Systems (www.idsys.com), a small product development firm in Long Island, NY and for 3 years as the designer for Fort Wayne Plastics, a large structural foam molder in Fort Wayne, IN.
He recently completed his tenure as the Professional Interest Section VP of the Industrial Designers Society of America (IDSA) and was previously Chair of the Materials and Processes Section for over 10 years. In August of 2012 he was inducted into the IDSA Academy of Fellows.
Warren was the guest editor of IDSA's Spring 2011 Innovation magazine (his article, "The Three Stages of Understanding" can be found on page 22 of this PDF). He is constantly evangelizing the value of materials and processes education within the industrial design community as well as improving the collaboration between the industrial design, engineering and manufacturing communities. He received his Bachelor of Environmental Design in Product Design from North Carolina State University and 23 years later earned his Master of Industrial Design from North Carolina State University. He is now teaching at the College of Design at NC State as Assistant Professor of the Practice of Industrial Design where he is responsible for the Materials and Processes courses in the Industrial Design curriculum.