Warren Ginn participates in IDSA education symposium in Detroit
Warren Ginn, FIDSA, (below, center) was invited to participate in IDSA's 2016 Education Symposium as part of IDSA International Conference: Making Things Happen in Detroit. He participated in a group discussion hosted by Scott Shim, IDSA, from The University of Notre Dame entitled 'Make Things Happen in Education' with Ann-Marie Conrado, IDSA, from The University of Notre Dame (below, left) and Carolina Gill from North Carolina State University (below, right). The discussion focused on unique curriculum and studio ideas from different ID programs.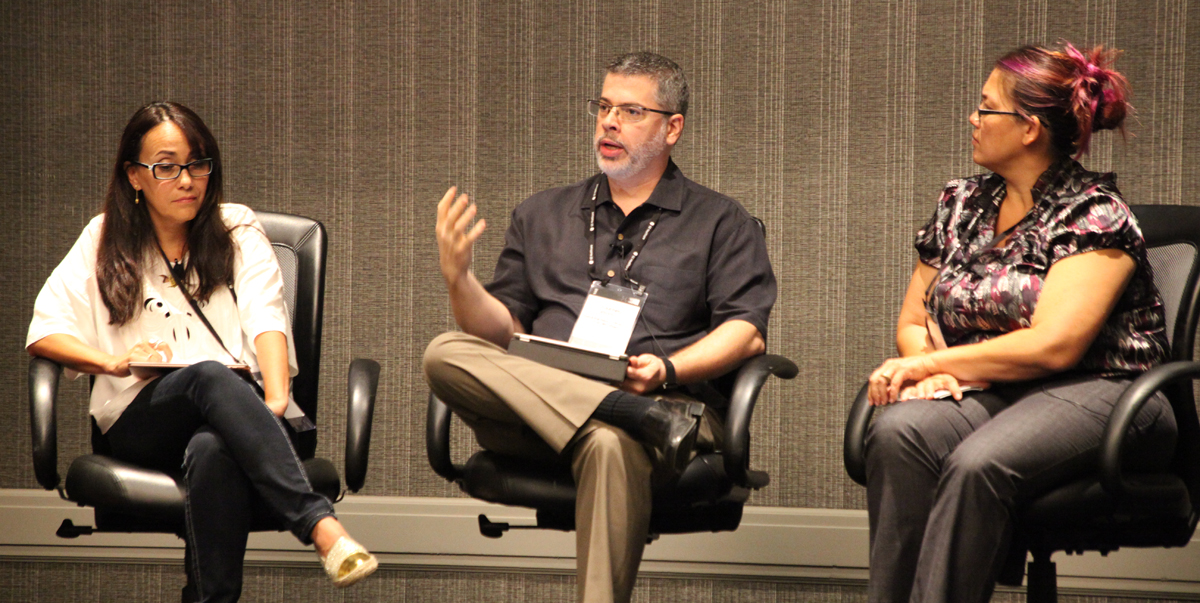 Here's the text from his presentation:
I've been evangelizing and advocating for materials and processes education for industrial designers for the last 20 of my 25 years in practice, but have been teaching the subject for just the past five. When I first started teaching, I thought that having an extensive expertise as a practitioner and a genuine affection and enthusiasm for the subject was all I needed to be an effective educator.
But, of course, I was wrong.
It turns out that knowing something is very different from being able to teach that something. Of course, having the professional expertise in materials and manufacturing processes provided me with a solid foundation of knowledge to draw from. But it's not the same as having an effective method of delivery for content that can be, for many students, very challenging to acquire.
My research into M&P education confirmed that there are a wide range of methods and approaches to teaching Materials and Processes in the ID programs across the US and Canada. That variety might be driven by the program's curricular objectives and constraints, limited time and resources, or by the specific knowledge and expertise of the instructors assigned to teach the subject. Some programs feature a single 3-hour course while others offer multiple units integrated throughout the curriculum.
As an aside, my hope is that in the future, we as M&P educators might be able to collaboratively develop some "best practices" for how this subject can be taught more effectively… But that's a subject for another session.
In the case of NC State, we offer two M&P courses for ID students: a basic and an intermediate-level course. And because they cover the same content, we co-list these two courses for the undergraduate and graduate programs so the two groups are in the same class together.
It's worth noting that while both courses are required for the graduate program, limitations in the available credit hours for our baccalaureate curriculum means the second intermediate course is an elective course for the undergrads. Consequently, the first half has to be structured as a stand-alone course that covers the basics of wood, metal and plastic materials and processes. But it should be compelling enough to encourage the undergraduate students to sign up for Part 2.
My courses have evolved over the years as I try to create an engaging and meaningful experience for my students that brings context to what can be a rather dry subject. I thought I would share some of my thoughts that inform how I teach Materials and Processes:
First, I think it really helps if you make the argument to the students for why M&P is so vital to their Industrial Design education. While it may represent one or two 3-hour required "service courses" within the curriculum, the synthesis of their ideas into a viable product design will often lie in the thoughtful consideration and appropriate application of materials and manufacturing processes. This thoughtfulness should be integral to their product design process as opposed to being an afterthought.
Second, I think it's important to develop the students' natural curiosity about materials and manufacturing by encouraging them to look critically at all the products they encounter in their daily lives. There simply isn't enough time to teach them everything, so their education should continue far beyond these courses (and for the rest of their careers). I encourage them to see the world as a vast laboratory where their "forensic analysis" of an existing product yields insights into what works, what doesn't and why. By teaching them how to ask good questions and use their powers of observation and reasoning, they can build their own personal library of knowledge and experience from which they can pull ideas for new applications.
Third, in addition to learning the basics of materials and manufacturing processes, I think it's important that students try to understand the technical terminology and jargon used in the industry. I realize that learning this vocabulary can be challenging for the students and takes work to internalize it, but understanding the technical issues that concern other stakeholders like engineers, manufacturers and suppliers develops genuine empathy for these professionals. In addition, the appropriate application and use of this language in the correct context will help to improve communication and establish credibility among your collaborators.
Fourth, I really want students to see materials and processes as an opportunity, not an obstacle. After all, for most industrial designers, materials and manufacturing is our primary "medium". Working with, experimenting with (and in some cases, struggling with) these issues should be an integral part of their design process in school and this experience will give them the confidence to make informed and deliberate design decisions that extend beyond mere aesthetics. In addition, documenting their materials and processes research, experimentation, challenges and solutions as part of their design process will be a powerful addition to the narrative they are building within their portfolio presentations.
Lastly, I encourage the continued collaboration between faculty members to incorporate this content into the rest of the curriculum. This integration is critical as it extends the benefit of M&P education far beyond the individual course. M&P can be applied and reinforced through studio projects as well as through other service courses like Design Research, Ideation and 3D CAD. The more often the student interacts with this content, the more likely they will understand it, retain it and be able to apply it when needed.
Of course, it's all about balance. The challenge for M&P education is to strike the right balance between presenting content that's useful, accurate and relevant in the time allotted without overwhelming the students. I think the key is to teach them about materials, manufacturing and the related engineering issues that drive their design process, but without trying to make them engineers.
As a relatively new educator, I'm always looking for ways to edit and clean up the course and improve its flow to make it more accessible and more enjoyable. Through my classes, I try to "infect" students with that sense of curiosity and to continue their learning about materials and manufacturing beyond my courses. I tell my students that if they start driving their family and friends crazy in stores, constantly turning products over to see how they're made, then I've done my job.