Warren Ginn guest edits Spring 2011 Innovation
Warren Ginn, IDSA, Principal of GinnDesign, LLC, was invited to be guest editor for IDSA's Spring 2011 Innovation magazine. Entitled 'Material Witness,' this issue highlights how design is contributing to both the business of product development as well as the suppliers who support it. Innovation is IDSA's quarterly journal and is the highest profile magazine for 3000+ industrial designers and managers today.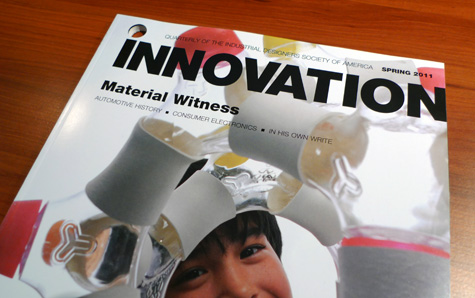 Warren sought out authors from around the world to write articles that celebrate how the designer's intimate understanding of materials and manufacturing drives innovation in product development and how they have become instrumental in leading the materials and manufacturing industries to recognize that innovation starts at the concept level. In addition, he wanted to offer articles that explore how we educate young designers about these technologies in our schools as well as how professionals continue their learning and apply that knowledge to new product innovations.
Table of contents for the 'Material Witness' issue (with selected articles available for download):
Making the "Right Choice" by Andrew H. Dent
Punk Manufacturing: Techno-Craft, Manufactured Brands and Data-Driven Designs by Kara Johnson
Rethink, Reeducate, Recycle: Three Ways to Almost Save the Planet by Using Materials by Aart van Bezooyen
Making the Impossible Possible by David Kusuma, FIDSA
What's New? 2010 Material ConneXion MEDIUM Award Winners
A New Approach to Sourcing by Zach Kaplan
When Worlds Collide by Gaylon White, Affiliate IDSA
Preparing for the Real World: Teaching Materials & Processes by Lydia Bjornlund
A Shared Innovation Opportunity by Deidre Kruser, Affiliate IDSA with Kristin Charlton, Affiliate IDSA
If you're an IDSA member, you should have already received your copy of Innovation (or will soon). If you're not a member, you can follow the link below to become a member and/or get your copy.
[The 2011 Spring Edition of Innovation]