Warren Ginn Speaks to the Rotomolding Industry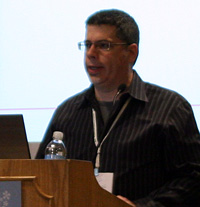 Warren Ginn, IDSA, Principal of GinnDesign, LLC, was invited to speak at two recent events for the rotational molding community. As and industrial designer with a great deal of rotational molded product design experience, Warren began appearing before this community in 2001. His message has been to encourage the rotomolding industry to reach out to designers with better information, educational materials, case studies and images to help designers better understand the opportunities rotational molding represents. He also promotes the design community as the source of new product design innovations and the key to future expansion for the industry.
His first appearance in 2010 was this past April in Cleveland, OH at the Society of Plastics Engineers (SPE) Rotational Molding Division TOPCON. His presentation, "Industrial Design and the Future of Rotomolding" stressed that while designers and engineers should collaborate more as opposed to viewing each other as competitors, industrial design represents the earliest divergent thinking that presents rotomolding the best opportunities for new product development. He also shared some observations with regards to how the rotomolding industry was marketing itself and how it could better connect with designers.
[Read the Plastics News article covering Warren's presentation.]
Warren's second appearance was at the Association of Rotomolders (ARM) 2010 Annual Meeting in Montreal, Quebec, Canada. His presentation, "Rotomolding Design and Innovation in North America," presented and overview of recent rotomolded products that he found inspiring and that would be interesting to the design community. In addition, he featured entries form the recent Student Design Competition, stressing the importance of reaching out to design students. As in his presentation to SPE, he encouraged the rotomolding industry to view designers as the source for new innovation and product ideas that can expand the industry.
[Click here for examples of rotomolded products in the GinnDesign portfolio.]