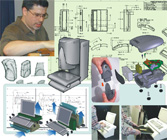 Our design process centers on thoughtful, multidisciplinary collaboration between GinnDesign and the client's team. While each client and project is unique, there is a common path we take to arrive at solutions that makes sense for the user, the product and the client.
---
Project Discovery, Research and Definition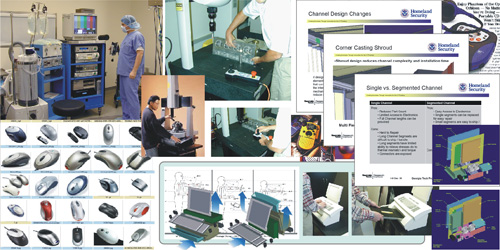 The first step in our development process is to fully understand the client's project objectives, goals and expectations. What is the problem to be solved? Critical to a product's success is clearly defining the user needs, the technology being used, budget and cost targets, the schedule, team member roles and responsibilities, the brand strategy, etc. It is also at this initial stage that we will define the scope of GinnDesign's contribution to the program.
By conducting an audit of the client's current design and/or technology, evaluating competitive products, and researching the needs of all stakeholders, we will reveal the new product's key advantages, risks and, more importantly, potential opportunities. If a client doesn't have all this information, GinnDesign can help to acquire it. Through this process of user-based research and product definition, we can develop a set of project requirements that will serve as the road map for the product's design and development… and ultimately its success.
---
Design Concept Exploration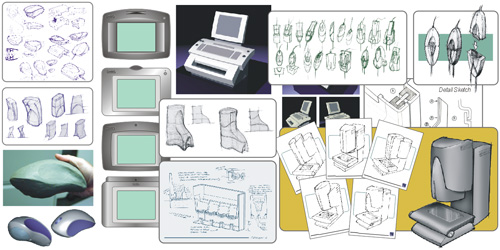 With the product definition in hand, we explore creative design concepts from conservative to extreme within the constraints of the project's criteria of prioritized functional and user requirements, defined use cases, ergonomic issues, technology, manufacturing and cost constraints. When appropriate, "personas" are created from market research to provide the necessary empathy for the targeted customers and guide the design process.
This is where the design begins to take shape. Ideas begin to merge into a series of distinct concepts. Rough sketch models can be made in cardboard or foam to test and verify the physical relationships between the internal component volumes and the external forms. These early presentations are typically a combination of 2D renderings and rough 3D mock-ups in physical or CAD format. With several directions selected, revisions are made and presented again for approval of one concept for development.
---
Feasibility and Concept Refinement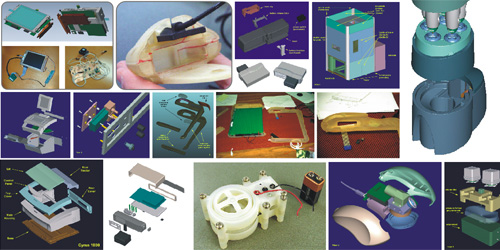 Once a concept is selected, it has to be translated into real dimensions, function and feel. In this phase the relationship between parts, their look, fit, assembly, and how they are to be manufactured is resolved through several iterations of physical and 3D CAD mock-ups. This iterative process begins to resolve the numerous details related to bringing a product to reality while faithfully maintaining the concept's original design intent. The deliverables for this phase typically include early CAD models which can be used to generate tooling and manufacturing cost estimates.
Critical to this iterative product design and development process is the fabrication of physical models for verification and approval of the physical and functional design for final engineering. "Looks-like" models are fabricated to demonstrate the product's final external size and form and functional "works-like" models and/or breadboards are produced to prove mechanisms or other technology will work at the size and configuration planned. Key performance specifications are tested to prove feasibility.
---
Product Design for Tooling Release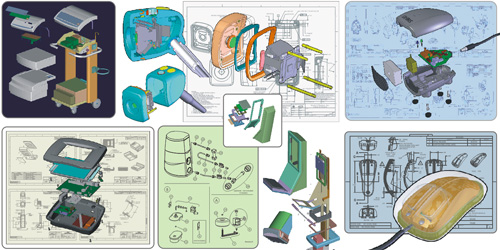 This is typically the most time-consuming part of our effort on the majority of projects. GinnDesign can develop the complete design and documentation for production and assist the client in identifying and qualifying vendors for production, including securing final quotes for production tooling and parts. As part of the final design, we make all the final modifications to the design as well as make color, material and finish specifications including the product graphics design and placement.
For most projects, the final deliverable includes complete production 3D databases developed in SolidWorks. In addition to 3D part and assembly files, the final package typically includes completely detailed and toleranced 2D production control-line drawings, bill of materials and additional product specifications and documentation. Additional services could also include 3d photo-realistic renderings for product marketing.
---
Production Start-Up and Follow-Up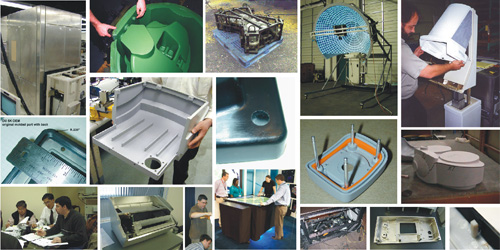 GinnDesign prides itself on following through. We can provide on-going consulting during tooling, production start up and pilot manufacturing. During the production engineering and sample making process, we can inspect and approve parts and participate in production reviews until the client is satisfied with the results. We can work collaboratively with manufacturing partners to make sure that decisions made by a vendor won't compromise the quality and integrity of the original vision, thus achieving the best quality results for the client.